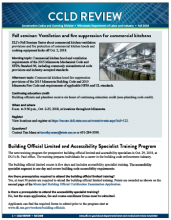 View the fall 2018 edition of the CCLD Review
Some of the stories in this edition include:
Fall seminars: Ventilation and fire suppression for commercial kitchens

Council reviews I-Codes, recommends adoption

Apprenticeship program to help train prospective building officials

New law affects contractors who perform storm repairs

Company ordered to repay more than $1.5 million to customers

Requirements for used container boxes repurposed as buildings

Accessibility for apartments on a single property

Electrical requirements for moved buildings and structures

Plumbing frequently asked questions and answers

... and more.
About the CCLD Review
The CCLD Review is a quarterly publication that promotes safe, healthy work and living environments in Minnesota and informs construction and code professionals about the purpose, plans and progress of Construction Codes and Licensing Division. Subscribers may also receive periodic updates about CCLD activities and seminars.
View previous editions of the CCLD Review newsletter.
Questions?